Hello and welcome to
kari_hermione
's collection journal! I mostly collect Nordic items but I am finding that I may have a weak point for Sealand and Liechtenstein. I also like to collect Netherlands and Belgium's items but I am finding that those are few and far between.
Also if you have any questions please feel free to ask at any time. :D
Current Mood:

chipper
* All items will ship from the United States. I am willing to ship international and delivery confirmation is available upon request.
*Once the items leave me I am not responsible for damaged/lost items.
* The cards will have cardboard to keep them from getting bent during shipment.
* I accept Paypal only at this time and the full amount must be paid before I will ship them.
* Payments must be in USD.
* I am willing to hold items for up to one week unless other arrangements are made.
* I can take pictures of the items as requested.
LAST UPDATED: 09/16/2012


(
Clicky!
Collapse
)

Hello! This is the sales post for Hetalia trading cards from the "Brothers" set.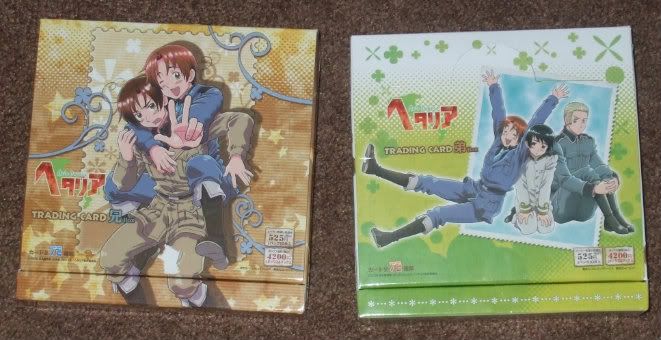 * All items will ship from the United States. I am willing to ship international and delivery confirmation is available upon request.
*Once the items leave me I am not responsible for damaged/lost items.
* The cards come in a sleeve and will have cardboard to keep them from getting bent.
* I accept Paypal only at this time and the full amount must be paid before I will ship them.
* Payments must be in USD.
* I am willing to hold items for up to one week unless other arrangements are made.
* I can take pictures of the items as requested.
LAST UPDATED: 08/06/2012



(

Clicky!Collapse

)